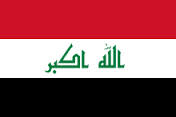 Basrah Governorate is pleased to announce opening tender batch Nos. 12-14 related to Iraq sectors: (Health, Roads, Municipalities, Electricity, Education, Agriculture, Sewage, and Water ) within the budget specified for the department's development, 2013. Interested international and local bidders or contractors (who have a strong, relevant background and expertise in these projects backed up with references for successfully implemented projects within the last two years) can report to the Basrah Governorate building, Contracting Section or contact the Iraqi Embassy's Commercial Section in Washington D.C. to purchase the tender documents for a non-refundable fee.
For joint venture opportunities or assistance doing business in Basrah or Iraq please contact IraqProject.com at 1-925-247-8509 or use the CONTACT US tab.
1 Response » to "Iraq Tender Alert: Basrah Governorate Tender Advertisement"
Leave a Reply
You must be logged in to post a comment.